HEO is an inside-out approach to create HELPFUL content, helping search engines rank you higher, improve CTR, attract backlinks, boost engagement and conversion.
In today's fast-paced content world, where there is a lot of data on search engines, we constantly come across the term "SEO" (Search Engine Optimization).
However,
One relatively new term that digital marketing experts are not properly leveraging is "HEO" (Human Engagement Optimization).
This brings about the question, what is HEO, and which one should we focus on for future search engine algorithms?
HEO focuses on creating content that is USEFUL and appealing to humans, rather than focusing on writing for search engine bots.
SOLVE FOR HUMANS, NOT BOTS
Human Engagement optimization focuses on creating valuable content that is of high quality and appeals to users, rather than focusing on writing for bots behind the search engines.
At a conference in Boston, the CTO of Hubspot, Dharmesh Shah mentioned: 
"THE WAY TO WIN IN SEO IS TO FOCUS ON THE HEO"
He referred to the HEO as an improvement in human enjoyment, and "solve problems not for search engines but for humans." 
We must, though, remember: HEO does not demand to eliminate keywords, rather, it focuses on creating quality content that makes a mark and stands out to please the search engine as well as engage the audience.
After all, there is a Human on both sides of a Web connection.
This article will have valuable insights about how to communicate with your customers through the web, engage them and close the content funnels.
CONTENT'S FIRST PRINCIPLE
Before we dive into the complexities of SEO and HEO, let's be clear about the content's First Principle.
Over the years, the focus has shifted to creating content for users instead of writing a bunch of words and getting them published. This is an example of imposing a user experience point of view on the content creation process.
One has to ask frequently, 
"What does a site visitor want from this page? What are they trying to accomplish? What is it that they aspire to do?" And how to present everything together to look more valuable and beautiful?
As you start to answer these questions, content engagement follows. This will result in google understanding your web pages better and ranking them higher.

Now, let's see what HEO is.
HEO stands for Human Eye Optimization / Human Experience Optimization.
At Qontentify, we call it "Human Engagement Optimization".
So, what is the concept and meaning behind it?
The main objective of search engine optimization is to drive traffic to your website. But to generate quality leads and improve your conversion funnel, you need more than that. This is when HEO comes into consideration.
HEO means such content creation practice that spotlights on offering some incentive to the users as opposed to simply fulfilling the web index bots. 
Google aims to make the browsing experience of all its users so it gives a high rank to those that it thinks to provide the best value. However, both algorithms and machines play a huge role in determining your website's search engine ranking. Hence, It can't accurately determine how humans find your content.
And if your own audience does not seem to be a huge fan of your content, your website will not have organic engagement, which in turn means they may necessarily not be your future buyers.  This is why it is essential that you consider PEOPLE who do access your website.
HEO (Human Engagement Optimization) is an inclusive term. It's what you put into this – Human Eye, Experience, Enjoyment, Engagement Optimization.
Mostly when people hear about HEO, the immediate question that pops into their head is, "why take the shift from SEO to HEO?"
It is a valid question, but I got enough statistics, B2B, and B2C behavior trends to make you believe why the shift is actually necessary for our future content marketing struggles.
We all can agree, that seeing a bunch of keywords mugged on a webpage is not what we enjoy reading. Perhaps, we enjoy something that appeals to us, that speaks to us, that is meaningful to us.
However, flooding pages with keywords leads to people closing your webpage, which leads your website to have a low rank due to the high bounce rate, which leaves us with one explanation:
SEO is completely counterintuitive at the bottom line!
To cover that mess up, you can use Human Engagement Optimization (HEO). Not only does it work more strategically, but it is much simpler to learn and work on.
No more cash outflow for keyword search apps to find opportunities for ranking. No more unnecessary plugging of keywords into every blog, webpage, and social media posts you create.
If the objective of SEO (Search Engine Optimization) is to enhance Google's understanding of your website, the goal of HEO (Human Emotion Optimization) is to enhance people's understanding of you and/​or your business. You can clearly see which one you need more. 
Today, it is important that your readers are more focused on increasing your reach. If you manage to find the answers to your readers' questions and provide them with quality and meaningful answers.
BINGO!
You are in line to be the next hit website. The webpage in the top results gets the most visits, which of course, is the way of getting the highest sales for any online business.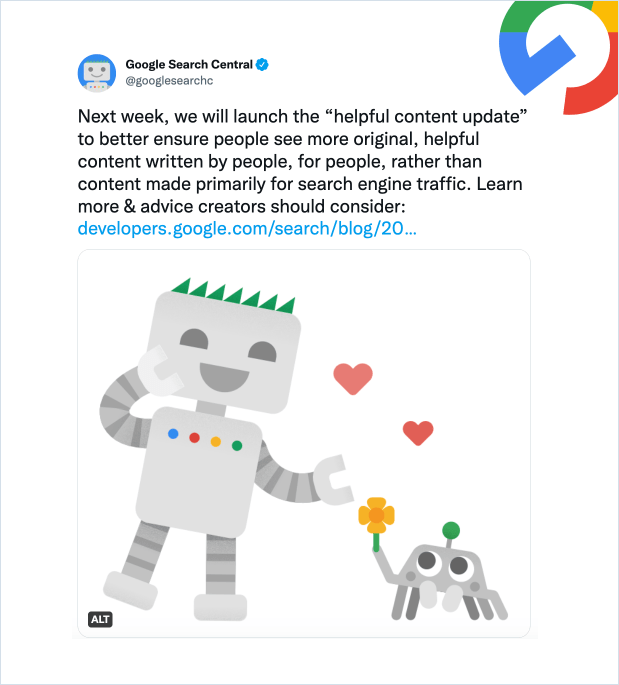 Let's keep this scenario in mind:
A person lands on your page from SERP when a search engine ranks it as such. How your keywords match with query terms greatly determines the indexing and positioning of your website.
The searcher will be able to see the similarity between his/her query terms and the keywords highlighted in the SERP. Then, he or she may think that your website has the content they are looking for.
However, if the users find that all the content is made up of Unuseful stuff, they will immediately bounce back. So, the focus should be on the content for users, which is why HEO is important.
Human Engagement Optimization will make sure that your visitors have the best experience with your content by not only making it engaging but likable enough for them to come back again and again. This may lower the bounce rate, leading to higher ranking, and also increase conversion rates.
HEO (Human Engagement Optimization) importance can be summed up by Hubspot's CTO, Dharmesh Shah used to describe it while speaking at a conference:
Human Enjoyment Optimization.
According to a Hubspot infographic about content marketing trends and budgets:
"61% of consumers are more likely to buy from a brand that shares custom content." 
And "B2B companies find a 67% increase in leads per month when they create content." Those are big numbers and they reflect a lot… like, A LOT.
Truth is,
Many businesses are already in line to develop content marketing strategies or hire an in-house content team. In fact, according to an article by the Content Marketing Institute. 
"73% of major organizations hire someone to manage their content marketing strategy."
This could be because "Content marketing leaders experience 7.8 times more site traffic than non-leaders."
Recently, a whole industry has developed around content marketing with the simple aim of using content such as words, images, and videos to convey the message and a firm's objectives.
Creating problem-solving content and its beautiful presentation is the ultimate win.
New Content Marketing Approach
Oftentimes, many people say, "HEO is more difficult than SEO!" Well, the question that lies for them is: Does anything worthwhile come easy?
HEO is the new SEO and beyond.
In fact,
SEO is part of HEO.
Only SEO is going to fail for the future of web 3.0 and so. Future search engine algorithms are smart and semantic to understand the content just as humans do.
So, your million-dollar optimization struggles for organic traffic are going to fail with a single algorithm update if, you don't know how to HEO optimize your content. Do it.
The Good News Is:
It's not as complex as SEO as you think. It's Simple, Real, and Easier to do.
It's an inside-out content marketing approach shift. When you create content to solve problems and your content is of that high quality, organic backlinks, consistent traffic, and higher conversion rates become a by-product.
What Are The Elements Of HEO?
"Crafting a combination of enticing graphics and compelling copy that converts."
Anything that enhances user experience and boosts engagement factors in HEO.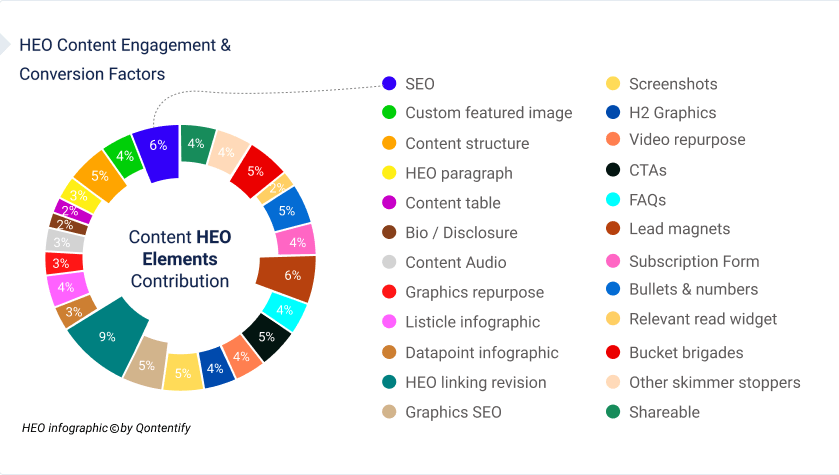 FUNDAMENTAL WAYS TO IMPROVE YOUR HEO
After discussing in detail SEO, and the importance of HEO, it is essential that you know a few ways on how you can HEO optimize your content to boost engagement and conversion.
The target user's persona derives the whole digital marketing strategy of a business. If you are not creating content targeting an average user's problem of your focused audience then your content will struggle. 
The business needs to put energy into creating a user persona before everything.
To begin with, you have to focus on visual optimization. This means creating imagery that goes with your content. The more visual your content is, the more appealing it is to customers.
"Articles containing relevant imagery have 94 percent more total views than articles without images, on average."
Jeff Bullas (CEO @ ContentReviews)
Next, comes the storytelling content.
The more realistic you stay, the more people will engage with your content. Give people what is honest, and what is reliable, but in a manner as if you a telling an exciting tale, and watch them come back to your website.
Coming to embracing transparency, which is another essential way you can improve your HEO. Businesses aim for secret-keeping, but this also means the customers may not know about you as much as they would like to.
So try to disclose as much as you can to the public. Share the values, the thought process, and the motto behind your company.
Your commitment to work is going to foreshadow how much success you will be able to drive. For instance, make a content calendar with your team and give them small tasks, say create at least one piece of content a month of several pre-agreed topics.
This is a great starting point and will definitely be rewarding toward the end!
6. Fresh And Valuable Content
Next comes the importance of fresh and valuable content. Your aim must be to create content that adds value. Think about a content marketing strategy that will appeal to the customers.
Put yourself in the show of your customers and ask yourself, "What would I like to see?" Keep asking yourself questions till you have enough answers which will help you make unique, fresh, and valuable content. 
You must always remember, having keywords and SEO-optimized content may not necessarily mean you're winning hearts and grabbing attention, but making content that appeals to your customers may mean so.
7. Invest in creating a content strategy:
Last but not the least, invest in creating a content strategy. Most people overlook this last step, but what they don't realize is that it can be the reason behind their success or failure.
Once you have a hand that is good with the basics, you might want to move on to developing a final plan that addresses all the above-mentioned criteria in your content.
Having a good content strategy will help join the dots between your business plan, your brand, and everything that you put out into the world.
It takes about 50 milliseconds for someone to judge your website. This means the content you create must be clear, easy to understand and make people heard. You have 50 milliseconds to make the best impression, and perhaps, make your business. 
Remember, always try to put yourself in the shoes of the customer and ask yourself, "Would I like to view this?", "Is it the best solution to my problem?",  "Would I trust this business with my money?"
If you can answer these three questions without hesitation, you can easily attract people to your website, and help them in the process to make purchases and boost the revenue for your business's long-term growth.
The only difference is in approach and focus. SEO focus on search engines with Keywords and HEO focuses more on users with USEFUL content.
Both SEO and HEO shares many elements such as title tags and meta description. 
The real way to win at SEO is to focus on HEO. Human enjoyment optimization, in which you "don't solve for the search engines, but solve for the humans."
Both are important to succeed in future content marketing games. Simply, create content with the approach of Humans and optimize it with keywords, helping search engines find and rank that content giving an initial push.
Focus on creating high-quality content that not only pleases the search engines but also attracts, engages, and retains your audience.
User intent targeted

Content Strategy and business potential

Keyword optimization

Content structure

Storytelling graphical optimization

Skimmers stoppers

Optimize CTAs

Linking Revisions

Shareable
A fine copywriter, SEO/HEO expert, content strategist and digital marketing guru. Co-founder & CEO @ Qontentify. Helps content marketers in optimizing their content & social pages with SEO plus HEO, to convert the highest. Chief growth strategist @ MarginBusiness – Amazon agency.