(click to navigate / right click to copy point link to share)
Hi Qont,
I am Babar and in this great read, you will discover the best ways to Optimize your Pinterest profile SEO + HEO (Human Engagement Optimization) and boards for better visibility, CTR, and authority.

Pinterest appears to be the "world's catalog of ideas and products" where people come to find inspiration, ideas, connection, and promotion.
It is an amazing visual platform and social bookmarking site that drives tons of organic traffic to websites and businesses with a long content life.
Content Qs
♦ DO WANT TO GIVE YOUR PINTEREST A BIG BOOST?
♦  IS THE PINTEREST ALGORITHM UPDATES BURYING YOUR PINS?
♦  ARE YOU LOOKING FOR TIPS TO GET THE BEST EXPOSURE IN PINTEREST SMART FEED?
Let's crack this visual search engine to 10x the impressions, engagement, and traffic. 
Before moving on…
PIN IT NOW… and thank me later.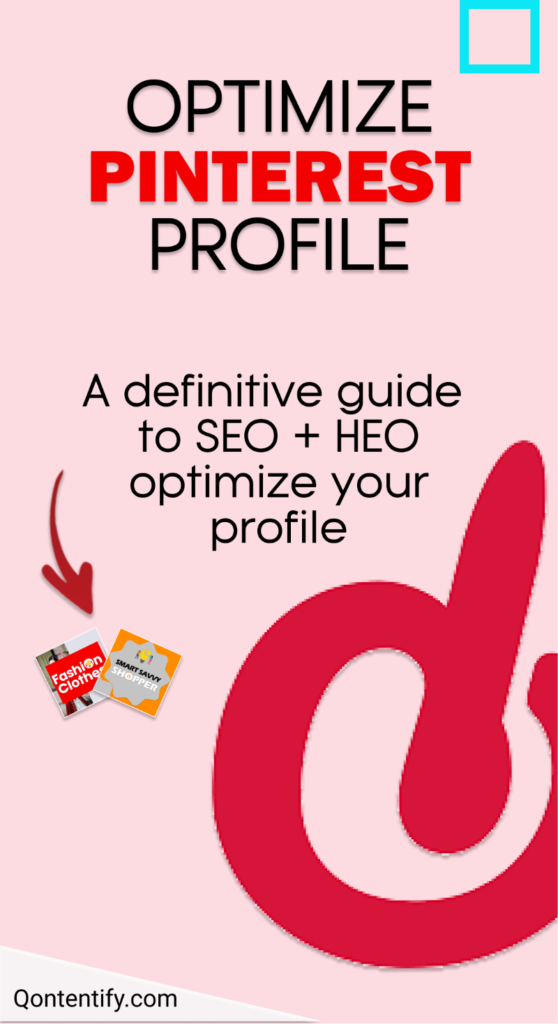 Pinterest appears to be the "world's catalog of ideas and products" where people come to find inspiration, ideas, connection, and promotion.
It is an amazing visual platform and social bookmarking site that drives tons of organic traffic to websites and businesses with a long content life.
No wonder…
WHERE THERE IS A SEARCH ENGINE, THERE IS AN OPPORTUNITY FOR OPTIMIZATION
And,
Pinterest optimization involves two primary elements:
SEO-friendly — Search Engine Optimization of profile, boards & pins
Eye-Catching — HEO (Human Engagement Optimization) of its visual game
Where there is a search engine, there is an opportunity for optimization.
And,
Pinterest optimization involves two primary elements:
SEO-friendly — Search Engine Optimization of profile, boards & pins
Eye-Catching — HEO (Human Engagement Optimization) of its visual game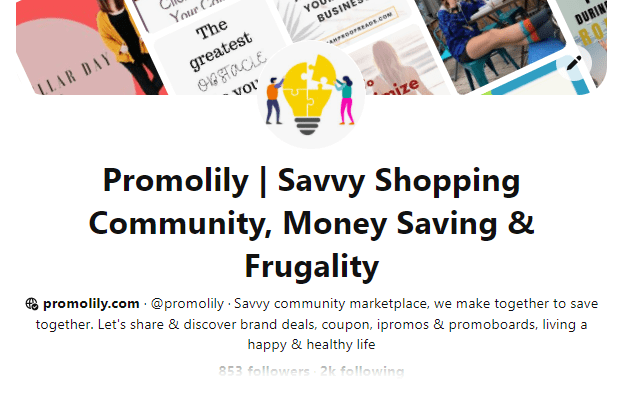 Note: This guide is to help both beginners and advance Pinterest users in their profile optimization process, so you can conveniently skip and play through the content order.
I will walk you through all the steps and elements of optimization.
In this post, you will discover the best ways to optimize your Pinterest profile and boards for better visibility, CTR, and authority.
Simply put…
These tips helped me grow my Pinterest impressions by 1230% and growth by 300%.
I know what you might be thinking though.
So,
No matter…
What is your industry, niche, and where you are starting, having a top-notch Pinterest profile is the basic and first step to get discovered by new audiences and drive sales.
Have you got the incredible power of Pinterest?
Let's see some motivational numbers in the infographic.
Isn't this enough to leverage best?
Pinterest offers a double real-estate to leverage.
The best-kept secret of Pinterest is its two elements to promote the brand — Text (title/description) and Visuals.
For Pinterest, follow one optimization rule to grow:
SEO the second real estate — title + description and HUMANIZE the visual real estate — graphics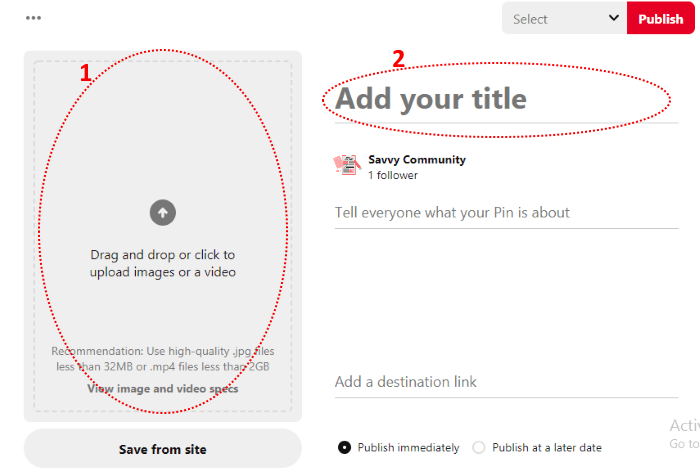 It is, like everything in life, all about what you put into it.
As you know Pinterest, is a combined package — social media and the visual search engine. So, the best part is its visual search.
Unlike other search engines such as Google, Bing, and Yahoo, Pinterest offers amazing TWO real estates to promote content, ideas, and products (and of course, to get tons of organic traffic).
Most marketers don't understand it and use it like other traditional social media and search engines.
The platform is full of bloggers and marketers who show up to Pinterest, create profiles, add some random boards, fill in some pins, and now: "Where the hack is impressions and traffic?"
Look!
It's not that easy…
… even not the way to deal with it.
But wait, there's more.
Why Do You Need To Optimize Your Pinterest?
All the above numbers & stats make it an ideal platform to promote content taking its visual-only advantage, but here is the catch though:
"There are over 100 billion pins on Pinterest — users saved more than 200 billion pins to 4 billion boards last year"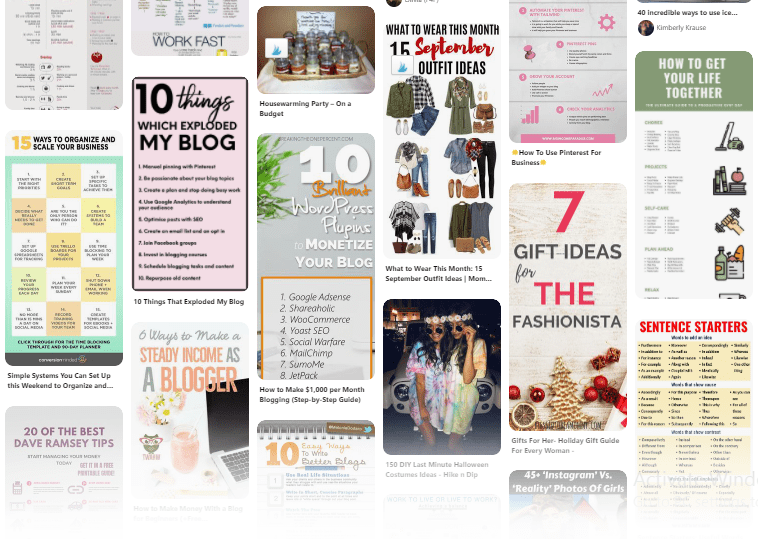 That counts a huge number of pins for any niche, content, and keyword to compete for the tiny place of 238 pixels wide on feed, search, or related pins page. So, to succeed on Pinterest you need to get your content stand out of the crowd.
And people like you are already doing this fantastic:
"Promolily observed 1277% growth in organic traffic from Pinterest and it keeps the pace"
"Food blog PINCH OF YUM gets over 500,000/month huge referral traffic from Pinterest"
Another:
"An e-commerce account of Small Business Ideas by Brain Lang earned about 2 million pin views in a month"
And another:
"Quick Sprout successfully drive 10,000 visitors every month from Pinterest alone"
Are you planning to leverage this visual platform to drive a massive amount of traffic?
And,
Haven't you got what was promising around?
It's not that hard to win on Pinterest as you may think or experience.
Follow one simple rule:
"Promote on Pinterest strategically"
It all starts with setting up an Optimized Pinterest Profile.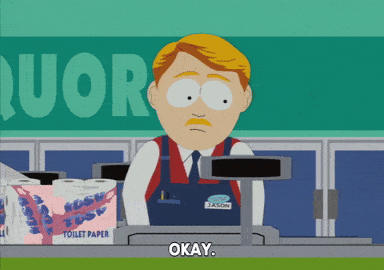 A business profile is recommended to enjoy the additional features otherwise you can optimize both personal and business accounts to grow.
The branding process for both types of profiles is the same so if you need to optimize your personal profile then you can skip this step.
Let's Get the Basics Right.
Create Pinterest Business Profile / Switch to Business Account
Whether you are starting out from scratch or planning to optimize the existing Pinterest profile, setting up a business account is the first step of the strategy.
I repeat here again, that you can optimize your business as well as standard personal profiles equally.
However,
Pinterest's business profile carries additional features & business perks that can help greatly to crack the platform.
Quickly, we sum up 5 reasons to upgrade to a business profile in this infographic.
Create a Pinterest Business Account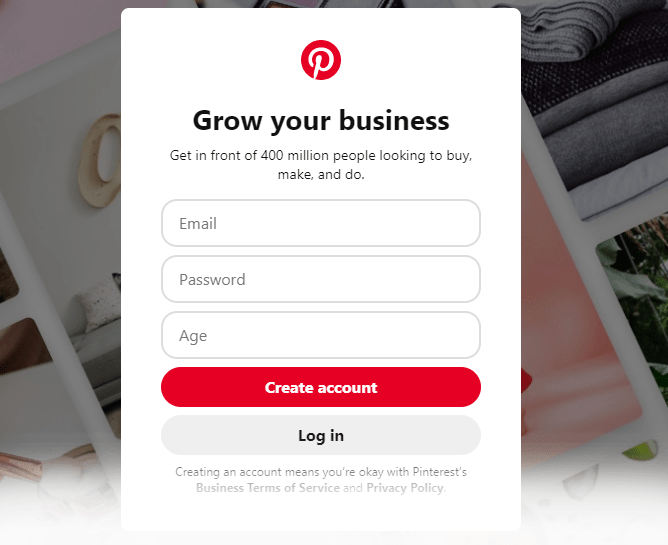 *not recommend…
And what is recommended by Qontentify?
This:
Switch From Personal To Business Account
Switching is actually adding a business account to your existing personal profile — both logged in at the same time using the same personal credentials.
It is perfectly recommended as you can add up to 4 business accounts to your personal profile that is very easy to switch between.
(*In my initial Pinterest journey, I made this mistake. I created two separate accounts using different emails — Personal and Business accounts. Then I added both up in a single profile to make switching easy. But, still, they are two accounts logged in simultaneously with different credentials. I am okay with it but it is not the correct way to do these things)
Note: I am using Pinterest desktop here as a reference.
Click "Add a free business account" from the drop-down menu in your personal profile: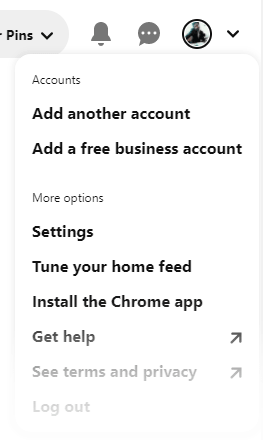 Now, fill in the credentials for the business account: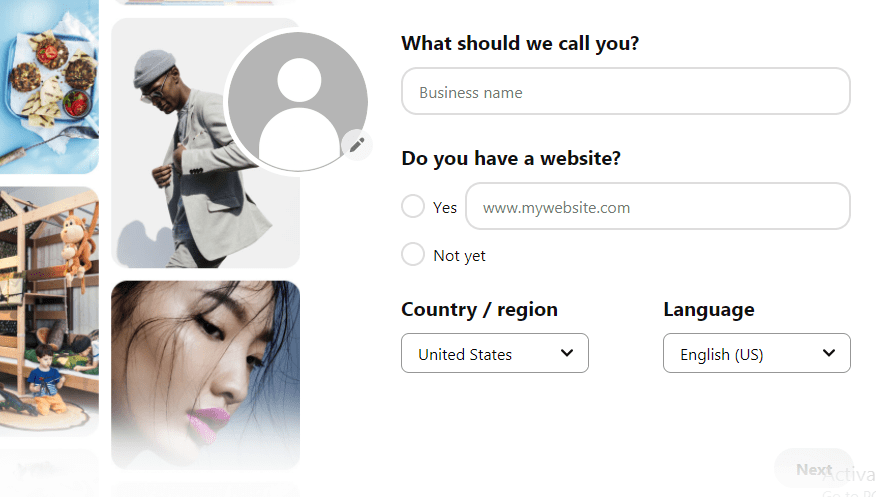 Ta-da! You are good to go.
*if you don't have any Pinterest profile, go create a personal one, and then use it to create your business account.
Are you ready to transform your profile?
Here Comes Your Pinterest Optimization And Branding
After you have set a business profile, it's time to do the SEO and HEO of the account.
We will use Promolily as our Pinterest profile to get it through all our optimization process as a reference.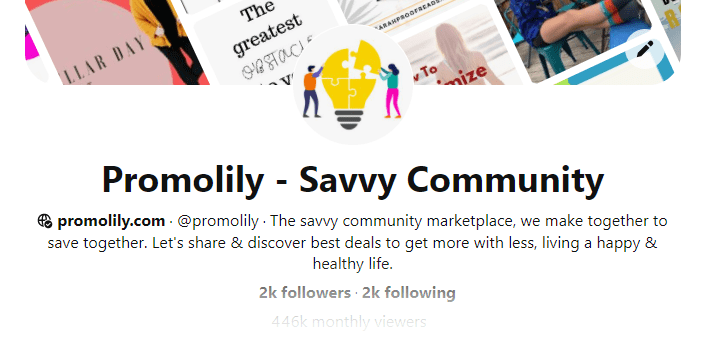 Let's conduct a branding test of this un-optimized profile: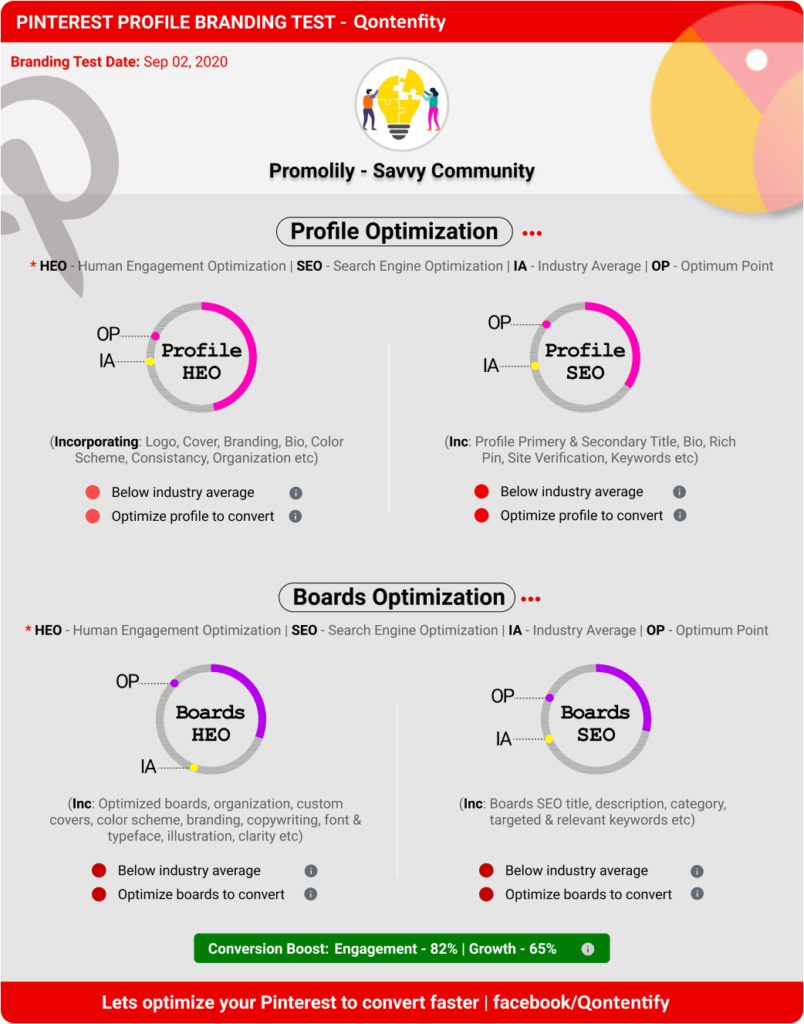 All reds circles are signaling a lot of optimization needs but promising a huge green boost though.
Note: You can request a FREE branding test for your Pinterest profile.
Pinterest branding is all about managing the two factors perfectly:
SEO (Search Engine Optimization) and
HEO (Human Engagement Optimization)
SEO is all about optimizing your profile using keywords the way Pinterest visual search engines can find and rank it higher on search pages. It helps other search engines like Google to rank it on SERP.
Google uses a huge 200 factors to establish its SERP list but it's not that tough and in-depth case with Pinterest. It uses four main factors to pop up the results for searches:
If you are blogging, you probably already know the above four elements, keywords search, crafting SEO titles, and descriptions for your content.
Pinterest SEO is one of the two most important tasks of the optimization process, mainly includes:
Pinterest SEO is more about "text" and less about "visual"
We will discuss and optimize all these elements one by one in detail below.
The other one is HEO — Human Engagement Optimization of Pinterest account, the way it can engage the users and convert that is the ultimate goal of a business.
Pinterest HEO includes:
1.  Profile Photo, Cover, Branding, Bio, COA, Consistency, and Organization
2.  Boards Organization, Custom Covers, Branding, Copywriting & Typefaces, etc.
3.  Pins Graphics, Typefaces, Clarity, Illustration, COA and Branding, etc.
Whereas Pinterest HEO is more about "visual" and less about "text".
Let's start the optimization process of the profile we used in testing the branding score above.
Pinterest HEO — Human Engagement Optimization of Pinterest account, the way it can engage the users and convert that is the ultimate goal of a business.
Pinterest HEO includes:
Profile Photo, Cover, Branding, Bio, COA, Consistency, and Organization
Boards Organization, Custom Covers, Branding, Copywriting & Typefaces, etc
Pins Graphics, Typefaces, Clarity, Illustration, COA and Branding, etc
Whereas Pinterest HEO is more about "visual" and less about "text".
Make your Pinterest profile search-friendly to get better exposure in the Smart Feed, Recommendations, and other related places.
The first and most important element is:
As you know Pinterest is a digital marketing tool and a powerful visual search engine, so it requires creating an SEO title.
Make the perfect use of this 30 character tiny and front real-estate.
A keywords optimized title helps:
The Pinterest title is a cute identity that shows everywhere along with your Profile picture.
On Pinterest search: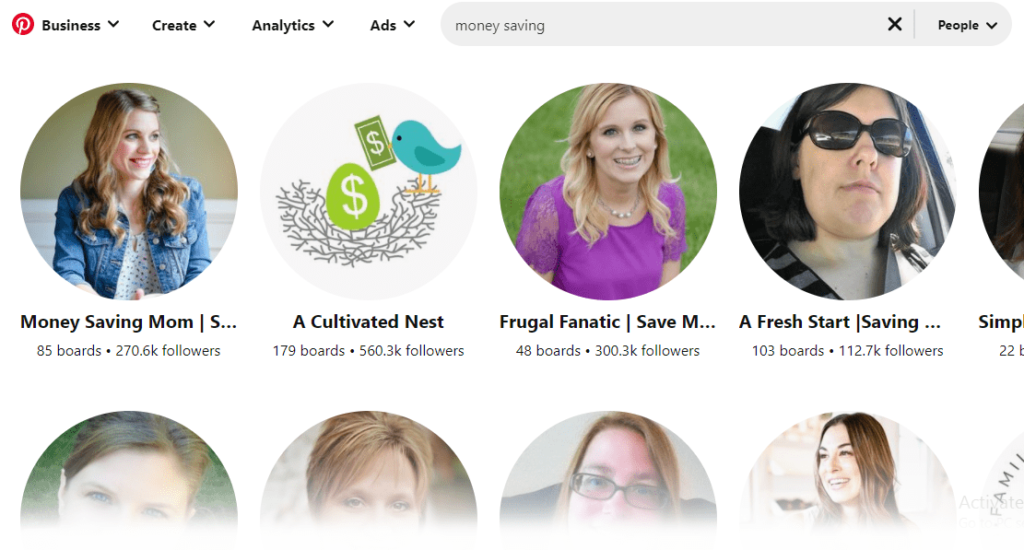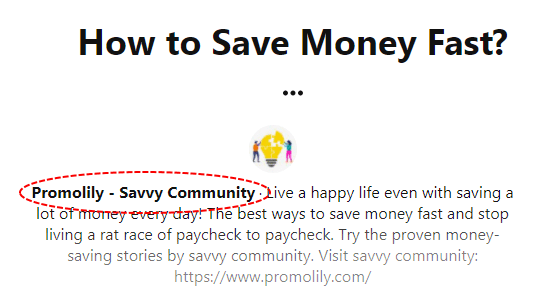 On your content (pins) page: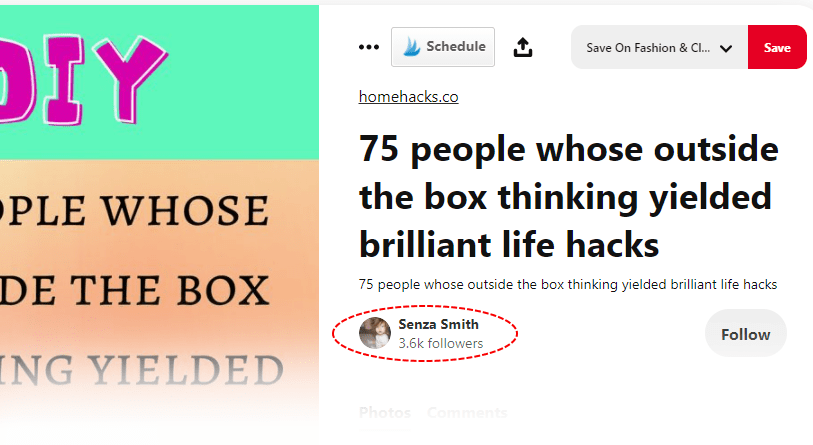 When you share on social media (in post or comment):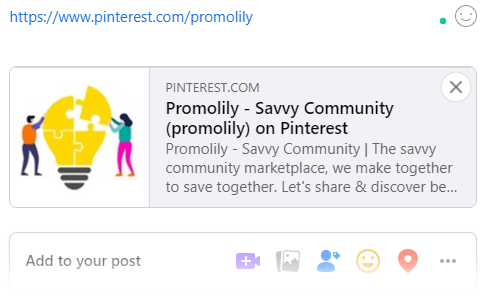 And everywhere.
So,
A perfect title with keywords engages people in all these places and tells them in a matter of seconds what this profile is about and what type of content they are going to find therein.
As you can use the Pinterest search function by profiles, boards, and pins, so an SEO title is a key to rank your profile, boards, and content on SERP of Pinterest.
It helps establish authority in the eyes of Pinterest to show our content on more people's feeds and related pin places.
How to set a right title?
Level 1 Strategy: If your personal name or brand name is known you can use a branded keyword to optimize your title.
"Business / Site / Personal Name"
The short & sweet single word title is ultra branded and works well for already leveraged ones like Shopify's title: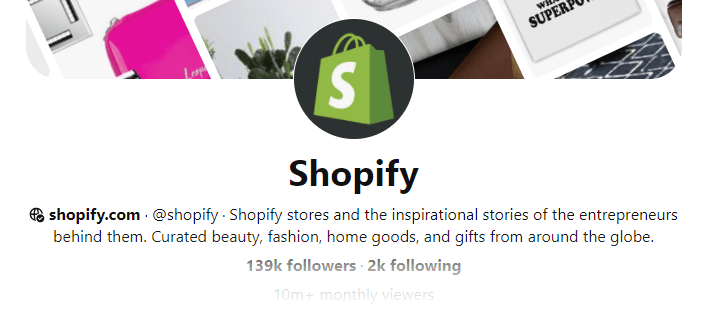 These one-word titles are not recommended for beginner marketers with unknown business or personal branding.
Level 2 Strategy: There are profiles with a mix of primary and secondary titles. This is a perfect combination to leverage more than one keyword in the title and enhance your content visibility & reach.
"Business / Site / Personal Name | Primary Keyword"
Look at Dariela's title: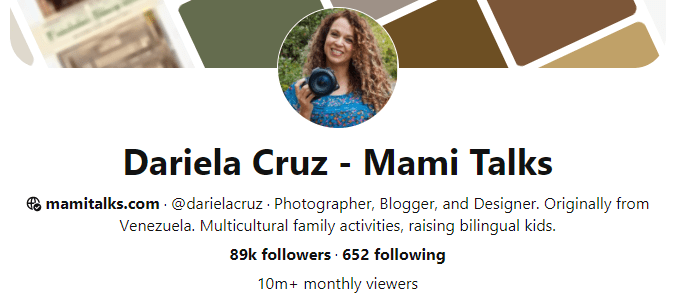 This is my personal choice to use brand/blog + primary keyword in the title and it works.
Level 3 Strategy: Another great way is to craft SEO titles filled with primary and secondary keywords/keyphrases.
It's okay to add up all the topics in the title you blog about or have content to post but it should not hurt your title HEO — meaning it looks genuine, natural, and captivating. (after all the ultimate purpose is to engage people)
"Business / Site / Personal Name | More than one primary & secondary keywords/keyphrases"
Look at Amanda's keyword-rich title: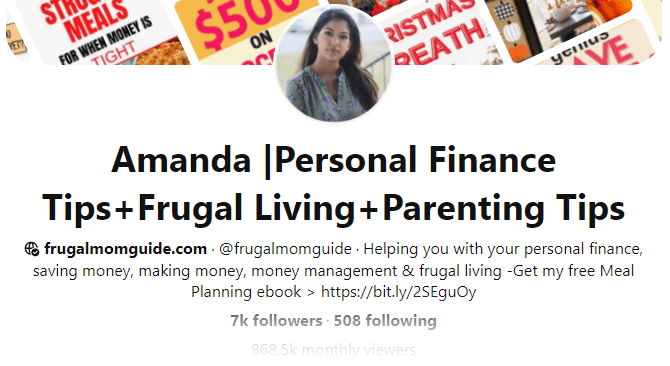 What strategy suits you, it depends on your niche, topic, and industry as well.
You can add all other keywords in bio/description, so it's better to optimize titles not adding too many keywords just to fill the whole space under the Profile photo.
Pro Tip: If you're a small blog/business and you want to optimize your title with primary as well as secondary keywords then adding a vertical bar "|" is the best tool to segregate both parts of an SEO title.
Here, you might be thinking…
How to create title longer than 30 characters limit?
Pinterest allows only 30 characters in the title, sometimes not enough for new bloggers to create a keyword-rich title.
This is 27 characters title: "Promolily — Savvy Community"
So, here is a TRICK to add title longer than 30 characters:
Let us ditch the Pinterest desktop for a while. Pick your mobile, install the Pinterest App, and here you go.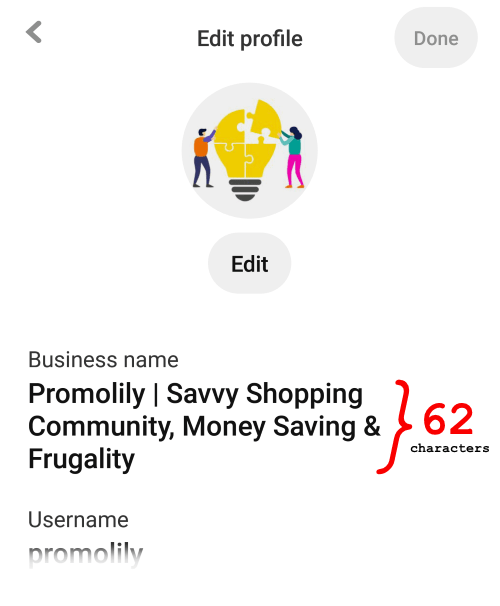 Yes, surprisingly Pinterest App (Android + iPhone) allows you to create titles upto 65 characters.
Seriously!
Follow whatever title strategy discussed above, you have enough space to craft a keyword-rich title for your profile.
Now, let's see:
How to search out our primary and secondary keywords?
The purpose is: 
RIGHT PEOPLE FIND THE RIGHT CONTENT
First, we need to find out the best keywords that we can use for all Pinterest elements where SEO is involved:
So first, here we search and collect a number of keywords for our profile to use on all the above places suitably.
The purpose of this task is to find the best keywords with the highest search volume on Pinterest that represents our profile topic and content.
Here,
For Promolily, we are targeting people who want to save money shopping and doing things frugally in their lives.
Enter a keyword into the search bar:
Here we use the keyword "Money" or "Money Saving"
1.  High search volume
2.  Niche/topic related
3.  People use to find stuff
Here,
For Promolily, we are targeting people who want to save money shopping and doing things frugally in their lives.
Enter a keyword into the search bar:
Here we use the keyword "Money" or "Money Saving"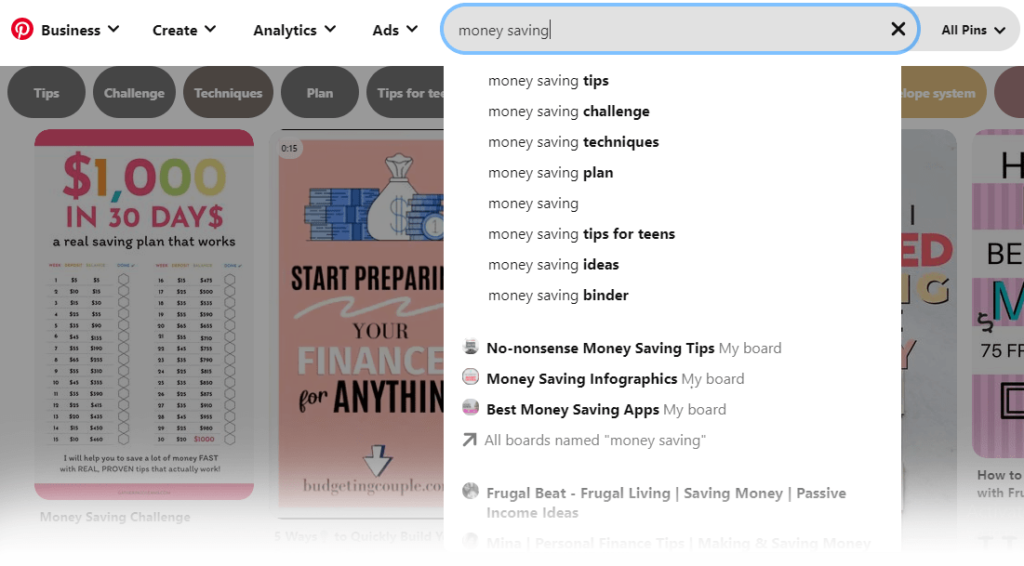 Pinterest serves the drop-down suggestion menu with all the related keywords and terms most used by searchers and discoverers.
We can use those words to research to narrow our keyword targeting.
Secondly, beneath the search bar, you'll see a row of colored words, the keywords used frequently in combination with "Money" by people.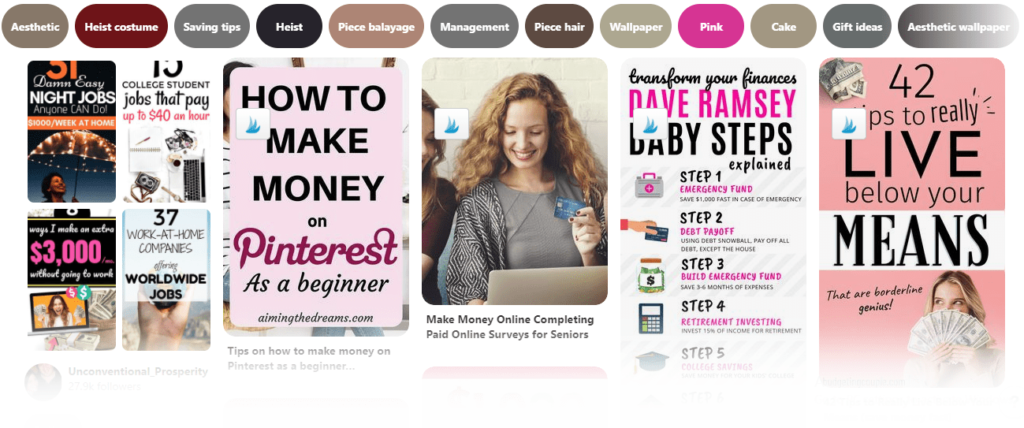 You can narrow down your searches using the recommended keywords. Collect all the close and related keywords & keyphrases to ultimately craft a title for your optimization strategy.
Additionally, you can use Google suggest & Pinterest Ads page to find some related keywords.
And a lot of other places like Forums & Social Media Groups where people discuss things about your topics can give you some targeted keywords with low competition to use.
Play with keywords a while, find and collect as many related keywords as you can on a spreadsheet.
After playing with keywords, we came out with the best ones:
"Money Saving" Tips
"Frugal Living" Tips
"Savvy Shopping", "Deals", "Coupons"
"Happy & Healthy" Living
"Discounted Shopping" Ideas etc.
These are the primary and secondary keywords with high search volume and exactly related to our niche and content.
We want to promote our own brand as well, so as per our strategy, we need some "Branded Keywords" to constitute the perfect title & bio:
"Promolily"
"Savvy Community"
"iPromos"
"Promoboards" etc.
Here is the anatomy of our selected title strategy of level 3 — Keyword Rich Title & Bio for Promolily: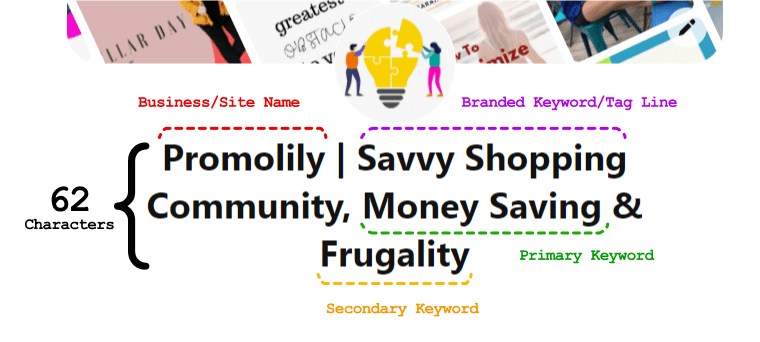 Search Engine Optimized And Engaging Intro Of The Profile
Bio is another important text-based real-estate to leverage the fullest. This 160 character space provides a big boost to SEO and introduces our profile to the viewers.
So,
GO FANCY WITH IT.
Its SEO part will handle keywords and HEO means a meaningful & creative statement about our mission to attract & engage our targeted people.
We have done a great job in the keyword search, it would be a matter of minutes to craft a perfect optimized bio for our Pinterest strategy.
That's Why,
We need to Copywrite a "Search Engine Optimized" & "Human Engagement Optimized" bio.
Because
This is the first impression on your audience, the first step to gaining followers and growing your community.
Let's constitute a SEO+HEO bio for Promolily:
"Savvy community marketplace, we make together to save together. Let's share & discover brand deals, coupon, ipromos & promoboards, living a happy & healthy life"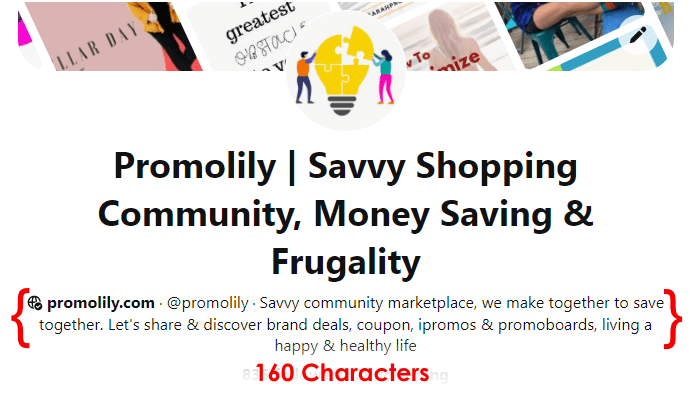 How is that?
1.  Short & sweet, mission-focused lines sprinkled with keywords.
2.  You have only 160 characters including spaces to leverage the full juice.
3.  Add the rest of the branded, primary, and secondary keywords/keyphrases.
4.  The first sentence (HEO) is the intro with the tagline — branding
5.  The second part is full of keywords (SEO).
6.  Finally, the third part is again an engaging line (HEO) — be creative with it.
7.  Add call-to-action (CTA) at the end.
8.  Add location (if necessary) and personal branding in the first part.
9.  Never hurt its HEO for SEO — don't flood it with keywords, use perfect harmony of keywords in meaningful lines.
10.  This is your "About Us" section to the outer world, so tell concisely.
11.  You can include your site link (some use a short link to analyze the CTR).
Promolily don't think to add site link & location into the bio as it is already given in start by default so they used this place adding more keywords.
Here is another bio: (with site link)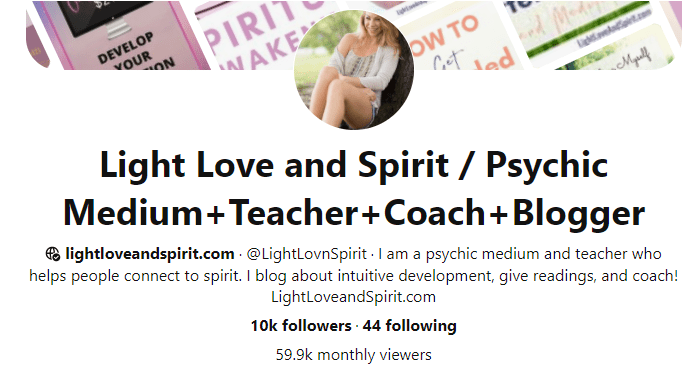 Another: (with call-to-action)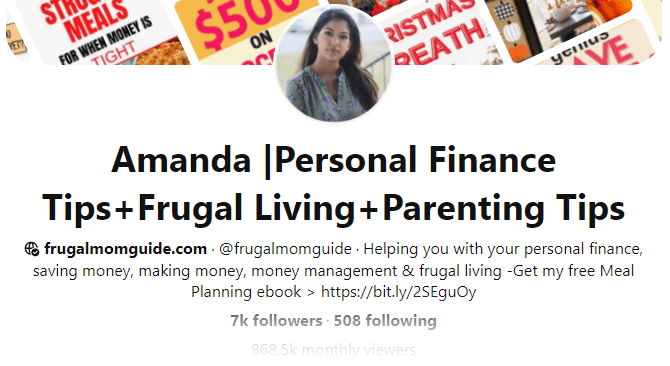 Checklist of an optimized bio:
Enough for bio?
Now comes the other elements in Profile SEO:
3. Link to your social media profile and pages
Pinterest allows you to link your Facebook and Twitter accounts to your Profile. It is a positive step to show your genuineness and establish authority.
By linking, you can post and share content on Facebook when you pin on Pinterest. Users can like and comment on your Pinterest content from Facebook and Twitter.
So,
Go and link your available social media.
Come on!
Do it. This is part of Pinterest Optimization.
Note: You can only link your Facebook personal account, not a page.
Claim Your Website & Establish Authenticity
You can claim a second-level domain or subdomain with Pinterest.
A globe checked icon profile helps Pinterest recognize you as an authentic business user and enhance your content reach.
It provides access to content analytics for what you pinned or others pinned directly from your site.
Users see your profile as a source of valued content.
Profile photo and title will show up next to all pins that shared from the site
The "Follow" button will appear next to your title everywhere.
Rich pins, a very useful feature is available for verified sites only.
All pins posted by others are linked automatically to your content and get organic traffic & subscribers.
How to claim the site?
You can claim & verify your site in three ways:
Add an HTML tag to your site that Pinterest will verify.
Upload an HTML file to your site
Add DNS TXT record to the site
Speaking specifically to those using WordPress + SEO plugin Yoast, you can use the first method to verify the site adding an HTML file.
Log into your Pinterest business profile and go to Settings.
Select Claim on the left side & click the Claim button next to the website.
Under Add HTML tag, copy the text in the box and click Continue.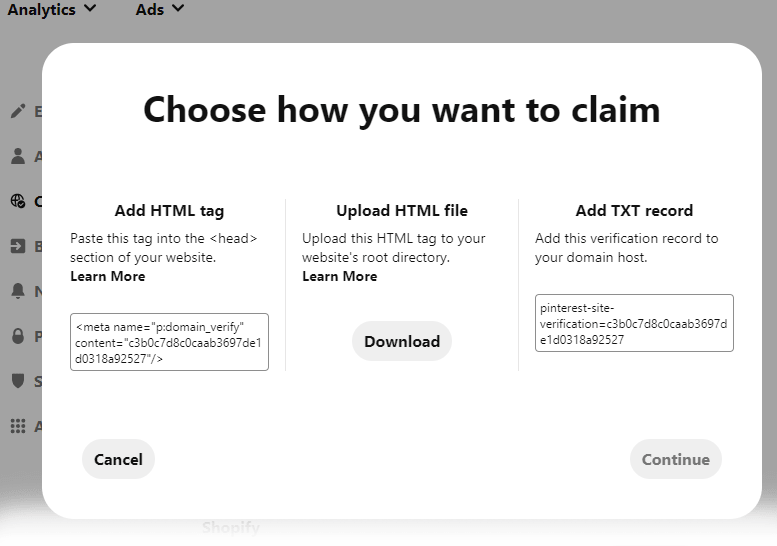 Now go to your WordPress dashboard and go into Yoast social.
First, Enable the open graph setting in the Facebook tab, then
Select the Pinterest tab, paste copied code into the Confirmation cell, and Save changes.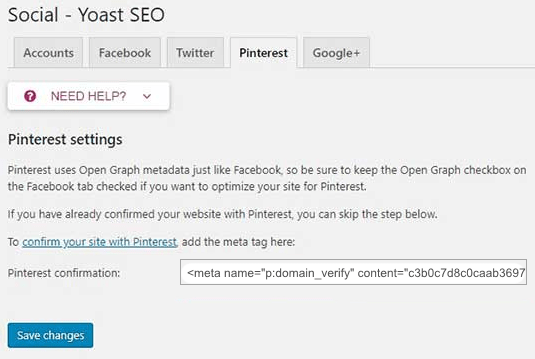 Now, go back to Pinterest, enter the site URL into the box, and click Verify.
Normally, it takes 24 hours to verify and confirm your site.
Ta-da. You are done.

Note: If you are using content management systems other than WordPress, check the instructions for all popular CMS to verify your site through the HTML tag.
And here are the other methods to verify your site:
Adding the HTML code and thirdly, by
Adding a DNS TXT record to your domain host
Enough…. To claim your website?
Okay.
Now, move on to the next element of Pinterest optimization.
5. Site Validation & Enable Rich Pin
Rich pins present some extra information on its own that it takes from our site page metadata.
This feature makes our content stand out and ensures a proper title and description are synced automatically when users pin directly from our site.
If you want to update your pins with title and descriptions, you just make changes on your site, it will automatically update on all your pins.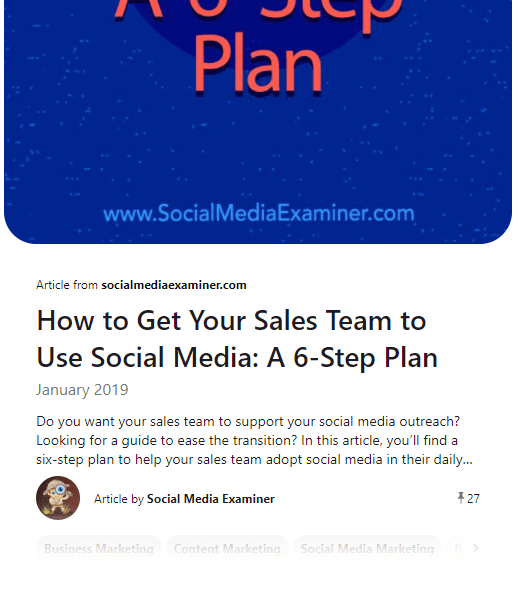 So, it adds up benefits in our optimization.
You can use one of three categories for rich pins Pinterest offers: Products, Recipes, and Articles.
And, content marketers normally use Articles to show up rich pins.
After you have claimed your site through HTML tag and enabled open graphs using Yoast.
Now,
It is simple to validate the site for rich pins.
Go to Pinterest Rich Pin Validator, add your site URL (any site page that has metadata) at the bottom of the page, and click Validate
Select the option you marked up your page (used in site claim that is HTML tags)
Click Apply Now
Done!
It usually takes hours to update and show up Rich Pins with your content.
Note: If you face any problem here and need help, consult Pinterest Rich Pin Documentation.
Here comes the Profile HEO!
Pinterest Profile HEO (Human Engagement Optimization)
HEO is more about visuals and less about text to optimize Pinterest Profile.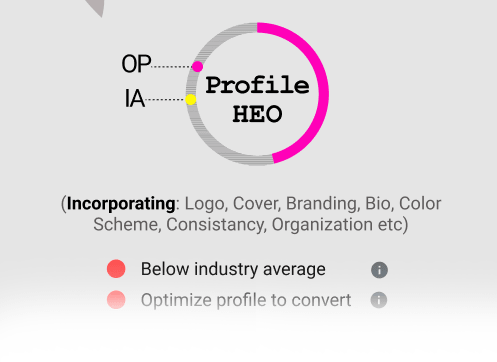 Its purpose is to provide a rich experience to users for better engagement.
As you know, Pinterest is a visual search engine, your success on this platform depends mainly on how you handle the visual part of the game.
So, here we need to optimize the second real-estate — Pinterest Graphics:
Profile Photo
Profile Cover
Branding
Color Scheme & Consistency
As we have discussed a golden rule of our Pinterest strategy:
"Keyword-rich" the texted real estate — title + bio/description and "HUMANIZE" the visual real estate — graphics"
The most important pillar of the Pinterest strategy is VISUALS — the converting visuals.
And the number one element in visual-based optimization is:
Add a high quality, mission-driven, and brand personality-oriented image as your profile photo.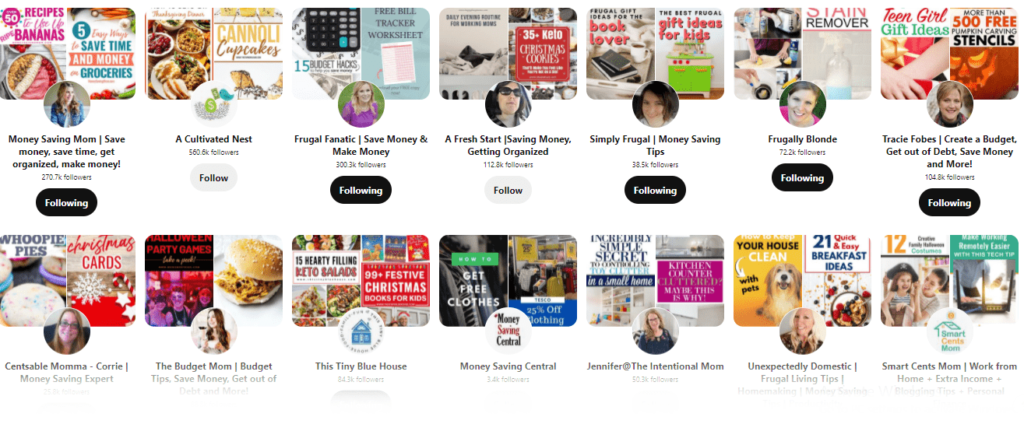 Because
It is going to appear wherever you go on Pinterest and beyond.
The profile photo is one of the first elements that users experience and notice. We recommend using your site/business logo or professional portrait of yourself if you want to connect with your audience on a personal level.
Level 1 Strategy: Go ultra branded
If you want to remain professional and consistent with your branding, upload your site/business logo, set into square size of 160px. Just like the Shopify did: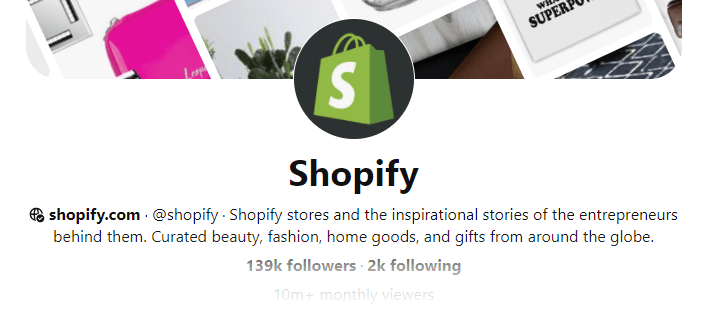 They are a large & renowned brand/site.
Using the same logo on-site, social media, and everywhere to maintain consistency.
Want to connect with people on a professional level.
Level 2 Strategy: Go personal
If you are a renowned personality or celebrity, this might be a growing and engaging strategy to use a professional headshot of you as your profile logo.
Remember, Pinterest is a more personal platform and people like to connect with people on a personal level.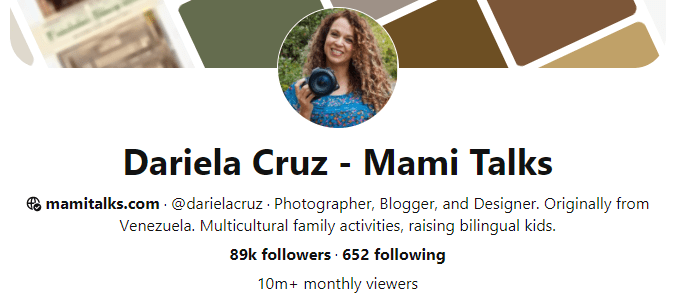 If:
You are a renowned face
You better represent your business — solopreneur
You are the face of your business/blog
You want to connect and expose your business on a personal level
You want to leverage your celebrity status
It is good to go with high-quality professional headshot optimized specifically for 160px square size.
And number three is:
Level 3 Strategy: Design a unique image for Pinterest
As we did optimize the Promolily profile photo: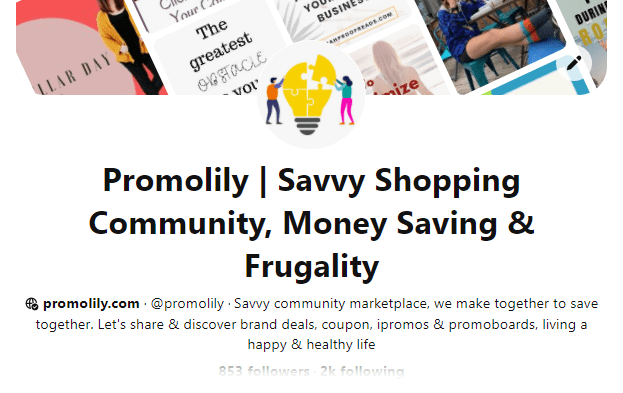 If:
You plan to promote a content mix of your blog and other categories.
You want to restructure and strategize the mission of Pinterest marketing.
You are a new blog/business and want to enjoy the benefits of Humanized Professional Branding as Pinterest is famous for.
Then, you can design a logo specifically for your Pinterest profile with a mixed representation of personal and professional.
What profile photo strategy you use, it also depends on your content niche, target audience, and your marketing objective on the platform.
A lifestyle profile would be better to go with a personal image and a travel blog with a creative logo.
Checklist for all profile photo strategies:
Don't overbrand — moderate level of professional branding
People like people — especially on Pinterest
Emotions matter and works on this visual platform (maybe because of the more female user)
Design the best quality photo with dimensions of 160px square with a centralized focus.
What we recommend:
For small businesses, new bloggers, and personal profiles I recommend using optimized human faces as profile photos.
Or
You can simply go with your site logo, the choice is yours as we have talked in detail.
Ta-da. You have done a great job.
Now set your profile cover.
2. Set Pinterest Profile Cover
A showcase to feature your best content, promotions, products, or services on top of your profile.
Look at the Chasing Foxes's cover: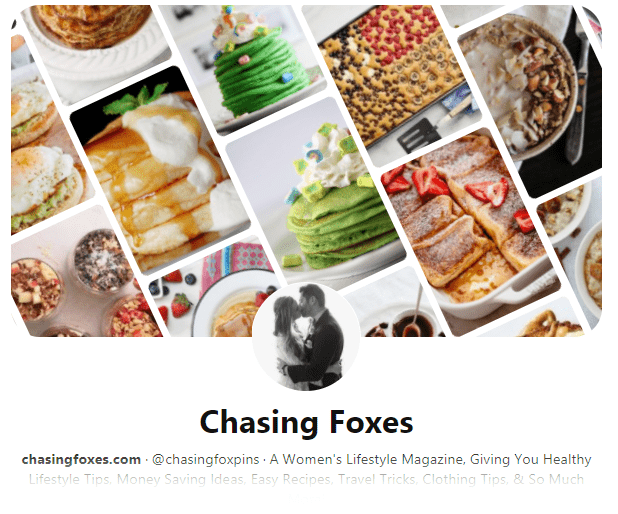 Do I need to tell you to notice its profile picture too? They followed the level 3 strategy here.
Keeping your profile complete, updated and fancy makes your account appear authentic and welcoming. Users want to follow you when you keep them tuned with fresh content.
By default, the Pinterest cover image is the large collage of images (pins) at the top of your profile.
Optimizing profile cover is the part of HEO.
Pinterest allows business profiles to customize the profile cover and update an image or video. You can customize one of three ways:
1. Update a specific board content as cover:
Select your branded board or primary blog board that featured all your fresh and new content. It will show up on top of the profile and provide first-hand exposure to users about the most important content.
2. Upload an Image:
Secondly, you can upload an image from your storage that can be anything to keep the user updated — branding, banner, promotion, campaign, product or service, etc.
And thirdly
3. Upload a Video:
If you've claimed your website or verified Youtube, Etsy or Instagram, Pinterest allows you to upload a video and play it on mute when your profile loads.
How to upload profile cover:
In your business profile, click the pencil icon in the top-right of your profile cover.
Click Upload image or video, choose one from your storage, Crop, or pan to fit the 16:9 ratio, and Save.
Note: The image must be at least 800px wide and 450px tall with a 16:9 aspect ratio whereas the video of the same aspect ratio can be from 4 seconds upto 5 minutes and 2GB data size.
Pinterest Boards Branding & Optimization
Pinterest boards are the basic categories you share your content therein. Like profile, boars need to be optimized with SEO and HEO.
You can create as many boards as you want (upto 500) to categories your content, topics, or as per aesthetic that's relevant to your niche or business.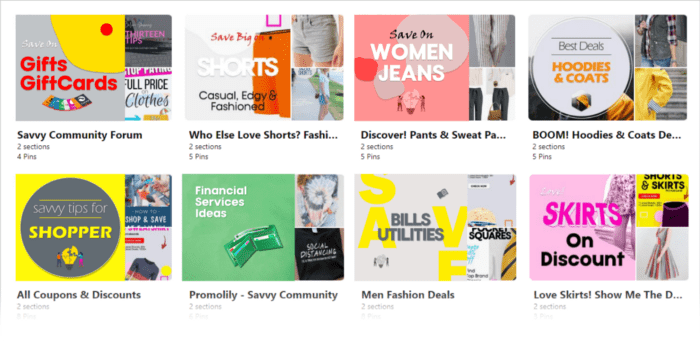 Pinterest users can either follow your entire profile or a specific board that appeals to them the most.
So,
Just like a profile, make board keywords optimized so that users can find them through search.
And,
Make them visually appealing so that they can engage the skimmers.
In the next board optimization process, we will make our board search engine optimized title + directions and graphically optimized board covers.
But, first, let's have some discussion on the basic organization and management of boards.
Pinterest boards should be geared towards our target customers/users.
It means we must create and arrange our boards in a logical order so that our visitors can have a better idea about our content scope and structure.
Every niche, subject, or industry follows an order to deliver the information perfectly making a funnel of natural flow that might be different from industry to industry.
So,
The important rules are:
Create your first board primarily for your blog and content and place it on the first position in your profile.
It's always recommended to choose your blog board as your profile cover also.
Create a board when you have at least 5 posts or content, published or planning to publish in the future, to pin in that board.
You must have at least 5 boards on profile for each of your blog content.
Organize all the boards in a logical order — most relevant and important at the top.
Select 5 most important boards including your branded ones to showcase as Featured Boards in your profile.
Create at least one secret board to pin all the best ideas you find on Pinterest and want to work on them in the future to grow your account or pin them to your board any later.
To reorder the boards as per your strategy, drag and drop on the desktop.
Organize all the boards in a way that makes the most sense to you.
Order of importance of your content and services.
Order of relevance and lead generation.
2. Boards SEO — Optimized Titles + Descriptions
Make keyword enrich titles and descriptions of all the boards on profile.
Just like profiles, users can search content through boards and can follow specific boards, so it needs to optimize them to rank better on SERP of Pinterest and other search engines as well.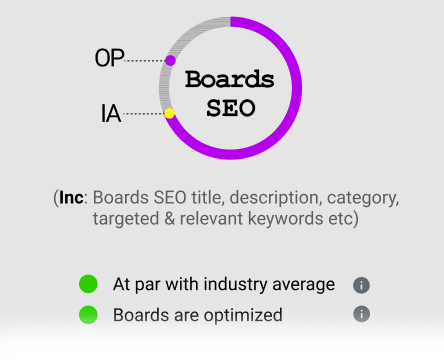 To optimize a board, follow the same procedure we adopted to find our Profile keywords. The only difference is they were general keywords with broader subject and scope.
And boards are created more topic-specific, so we need to focus on closely related keywords to use in title and description.
As we have learned about SEO upto some level, so making our boards search engine optimized would not be that hard task now.
Board SEO means its two elements of keyword enrichment:
In can include verbs such as Money Saving, Frugal Living, or nouns such as Frugality, Deals, Coupons, etc.
To maintain consistency, title length and style should be the same. You can follow two-word titles with the "&" symbol or something that you can follow through all the boards.
The title by default limit is 100 characters, so make sure the best use of this space is going to appear on the top of the board page.
It shows only 50–60 characters under boards on your profile so put primary keywords first.
Use a valid keyword as a title plus a branded keyword to promote as well.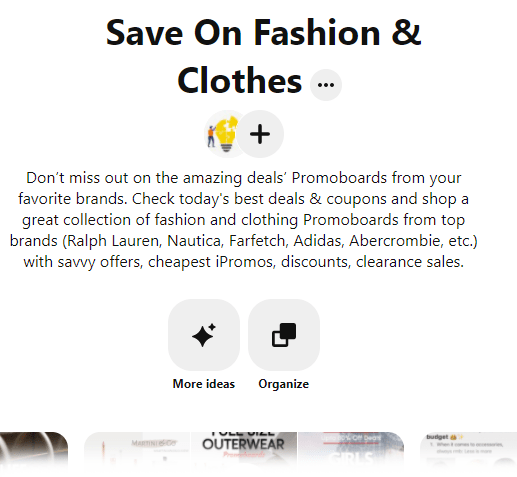 Keywords in the description equally search engine optimizers as it provides the extra mileage to your reach.
Copyright a keyword-rich, descriptive and meaningful description of all the boards on your profile.
Here is the one-liner:
"A THOUGHTFUL DESCRIPTION FILLED WITH KEYWORDS THAT STRATEGICALLY COORDINATE WITH YOUR BOARD NAME"
The keywords you have found searching the title, add in the description, and compel the user to follow, engage, and click the board to see what is inside.
Never left your boards with an empty description
Always use the best combination of copywriting lines and keywords.
You can provide upto 500 characters in the description, use it to the fullest.
You can add some call-to-action in the description just to engage users.
Primary and secondary keywords and LSI can be used effectively.
It is always recommended to Humanize these lines because users consult these lines to find actionable details.
No evidence of benefits to using hashtags in the board description.
Always first pin to the most relevant board on your profile.
3. Boards HEO — Custom Board Covers
Have you ever noticed some Pinterest accounts have branded board covers?
And they look pretty cool.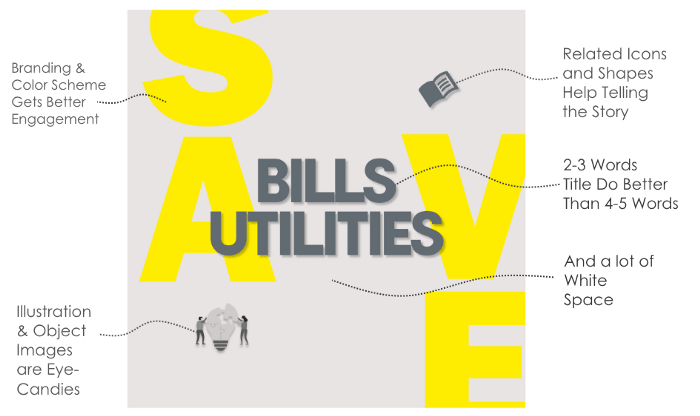 Right?
With this section, we are going to multiply your Pinterest engagement and growth through tweaking your board covers.
Hang on;
You are going to use a simple secret weapon that 95% of people on Pinterest are not taking seriously — a better chance to get a mile ahead with an instant tweak.
Note: There is a detailed guide for board cover optimization that you can read here.
Why do you need to brand board covers?
This allows you to make a strong first impression with your branding. Include your fonts, colors, and any other graphical elements of your branding — so you have an integrated look and feel that is similar to your website and other social media profiles.
Custom designed board images add some comfort to an otherwise messy view. They give your eyes a comfortable place to focus on the chaos.
Adding a board title as text overlay makes it easy for someone to quickly look at the different boards you have and what kind of stuff you're pinning — so they can decide. Are you the person they want to follow?
The custom boards enhance user engagement and brand authenticity & credibility.
Look at these cluttered & distorted boards: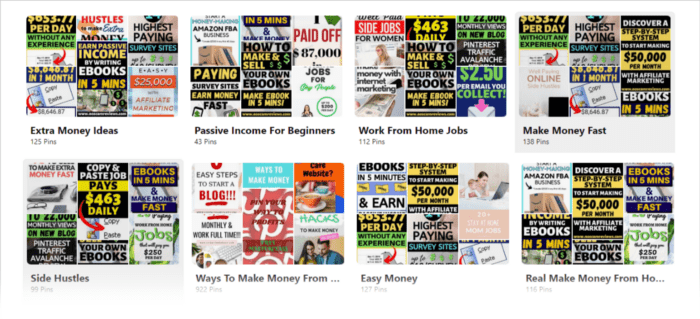 And look at these custom-designed boards: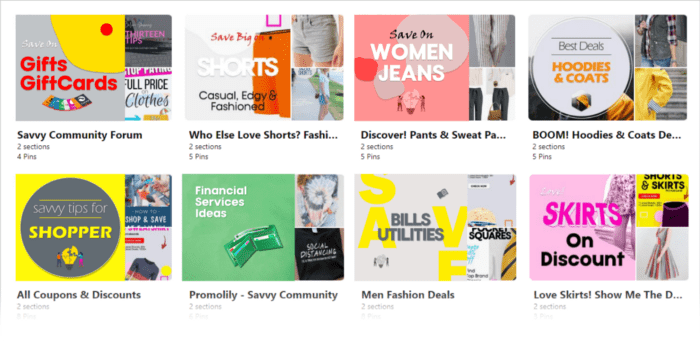 And even more, branded with a single design for all boards:

A/B Testing For Branded Board Covers
Pinterest grew by a huge 55% with all custom boards on an account.
With onboard illustrations (mix of related object & character) and Icons & shapes, boards' followers grow 35% faster and experience engagement boost upto 30%.
Uniformity of design observes 35% more engagement.
Color scheme and branding boost brand authority and growth upto 70% higher than without.
Stock images on boards surprisingly observed lower engagement. ( So don't use stock photos)
2–3 words heading (cover title) performs best as compared to 4 or 5 words. So try your best copywriting skills to craft an HEO (Human Engagement Optimization) cover text overlay.
Covers with upto 70% white space perform best.
Well-designed cool style board covers witness more engagement than nominal designs.
Some colors look fussy when you upload covers, so before designing all the boards and in branding, select those colors which remain stable on boards.
Remember!
The board cover is the part of Pinterest HEO (Human Engagement Optimization) so you can try some power (but non SEO) words for cover copy/heading and the rest of SEO is managed in its title and description.
For example:
A board cover HEO heading: Yes! Unbelievable Savings or Massive Money Saving
And its SEO title: Coupon and Discounts or Money-Saving on Groceries
Enough for branded boards!
Here is the Pinterest profile branding test of Promolily after optimization: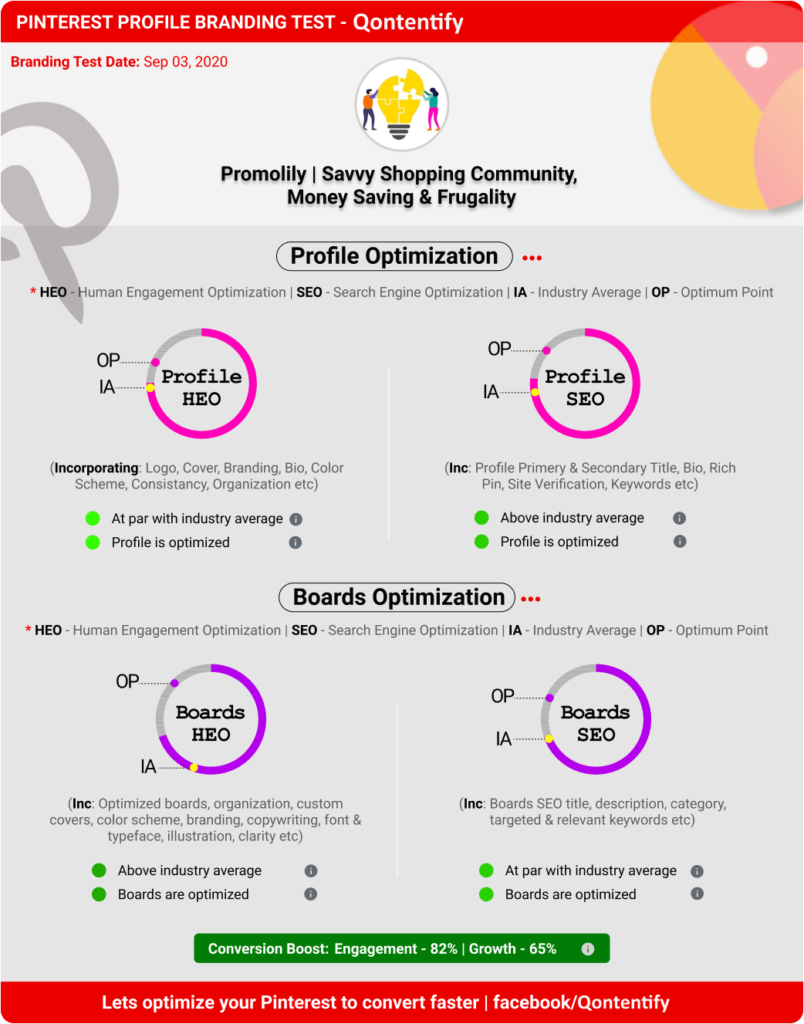 Here is the bottom line:
"Optimize your Pinterest, Create valued content, Design stunning visuals and Pin regularly"
Now it's your turn.
LET'S CRACK THIS VISUAL SEARCH ENGINE TO GROW FAST
And if,
Don't you know how to do it precisely?
We are here to help you convert your business / personal Pinterest profile into a branded account to convert and grow fast.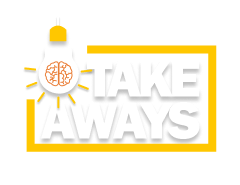 If you have any questions, comments, feedback, or tips I missed, we'd love to hear it below!
Follow us for even more savvy stuff! Want to save this Pinterest Optimization Guide for later? Pin it here!